Musical Instruments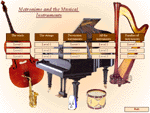 The object is to move the name of an instrument to its corresponding image.
5 games are available. Among 24 instruments, the player must recognize :
Wind instruments.
Stringed instruments.
Percussions.
All the instruments from their name.
Instruments from the name of their family
Each of the five available games has three difficulty levels (instruments are the same, but the time allowed to recognize them decreases). You can advance only after completing the previous levels.
>>> Click here to download Musical Instruments.