The book of composers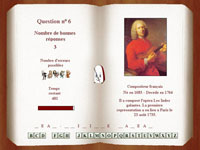 The book of composers is an educational software whose objective is to make you learn the name from the largest composers of classical musics. This program contains 104 composers, 192 portraits, including 22 caricatures, and 328 musics.
It contains 2 parts: a hangman game, and an encyclopaedia.
In the encyclopaedia, it's possible to listen to musics, to see portraits, the birthday, the year of the death and the nationality of the composers. They are classified alphabetically.
In the game section, the objective is to find the name of a composer, or the name and the first name. To help you, it is possible to obtain indices (portrait, music, nationality, year of birth, year of death, phrases describing a creation of the composer). You can activate or deactivate the indices before playing, or let the computer choose.
It is possible to have 1 player or 2 players.
When you are alone, you have the choice between
- The 20 questions game : the game is finished at the end of the 20 questions.
- The greatest score : the game stops when a composer is not found. Your score is saved if it is among the 20 best.
When there are 2 players, you can make the 20 questions game. The players play each in turn. As soon as a player does not find the name of a composer, it loses its turn. Then the second player can play. The game finishes after the 20 questions.
The demonstration version is limited to 40 composers instead of 104, 40 portraits instead of 192 and 30 musics instead of 328.
The book of composers functions under Windows 95, 98, Me and XP. This game is only in french.
>>> Click here to download the book of composers